By Paolo Marchesi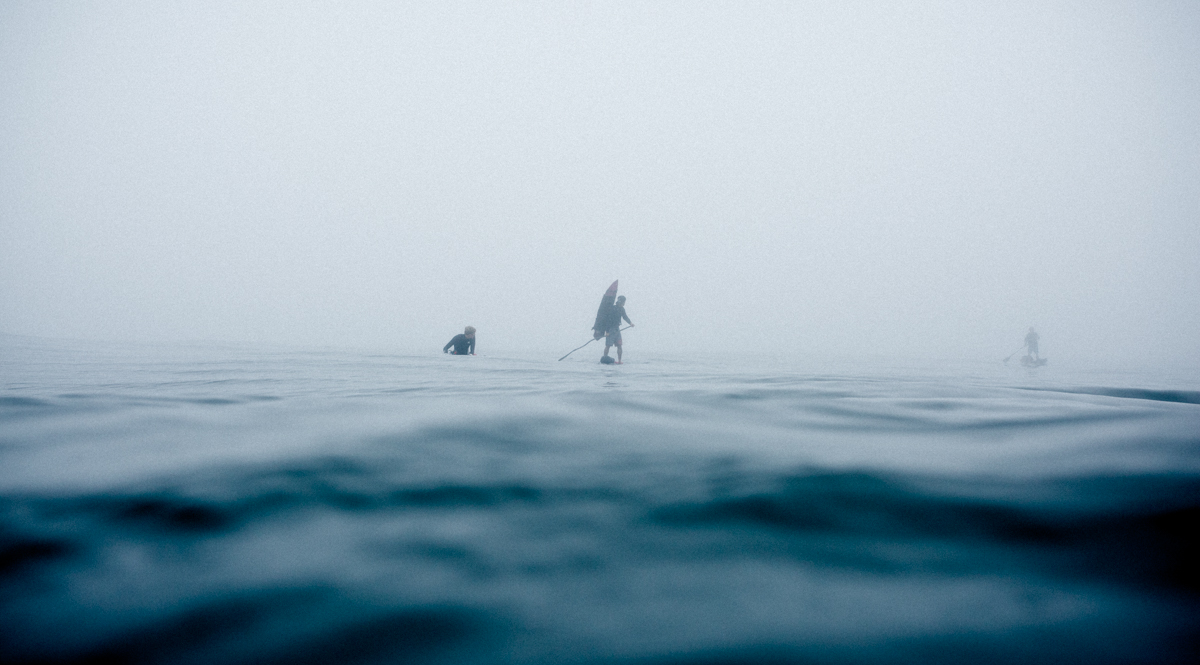 LOST AT SEA  
When you think of Mexico in July, you probably think of warm, sunny blue skies.  The crossing to Todos Santos Island was only 3 miles, of course you can visually see the island from shore, in your plans back at home.  A GPS?  A compass?  Who needs one, right?  We needed to pack light, and we could only think about the essentials like bacon and eggs.  The six of us woke up  to a thick cold fog layer, we looked at each other wondering…  Is this Mexico?  For real?  The goal was to paddle across on a SUP with camping gear, food and surfboards, and then to surf the breaks around the Island, famous for its big wave break known as "Killers."  Simple enough. We followed the coast line for the first mile, and then on the crossing to Todos Santos Island it didn't take us long to realize we were lost at sea.
After hours of blind paddling in a complete whiteout in search of the Island, Joe blurted out frustrated,"THIS DOESN'T FEEL RIGHT!"
We had been keeping a less than straight heading toward the island, but the flat open ocean and the fog gave us no sense of direction.  We were totally disoriented and tension was growing.  Suddenly out of the fog, land appeared. "TODOS SANTOS ISLAND!" we all yelled in excitement.  But Joe's feelings were correct; it didn't feel right.  The excitement was quick to vanish when we realized we had made a 180 degree turn, and after hours of paddling, we were back where we had started the crossing.
"Shit!" We stopped discouraged and not many words were exchanged. "Now what?"
After recollecting, we decided to make another push for the island, this time trying to keep a straight heading.  I would like to say that a pod of dolphins guided us on our journey, but that would be a romantic lie.  We did run into a large pod that followed us for a long time.  This was probably the largest and most playful pod of dolphins I have ever seen.  I will never get tired of these encounters.

Well after the dolphins had left us, we kept going on our blind pursuit.  Still a whiteout, and no island in sight.  We stopped again in the middle of ocean, discouraged and ready to trade our bacon and eggs for a GPS.  As we were trying to figure out what to do, we heard the sound of crashing waves.  It was eery, spooky and cool at the same time.  Could this be Todos Santos Island?  We started following the sound in the fog seeing nothing but white in front of us.  The sound got louder and louder.  
When the crashing waves sounded too close for us not to see land, finally the shape of an island broke the horizon through the fog.  "TODOS SANTOS!"  We all yelled.  This time we had found it.  The island was much smaller than we had expected, and we realized how lucky we were to find it without a GPS in that thick fog.  Suddenly everyone was in a good mood, cheering and reenergized.  However, at that moment, we didn't know we were NOT going to be welcomed on shore.  We were about to find out the island was not ours.
THE BIRDS
We arrived on shore on the South Island, and within seconds we had hundreds of nesting seagulls dive bombing us.  They came from every directions.  Jon, our cinematographer, concidently was wearing a scarecrow outfit that included a hat and striped shirt.  He even found a broom to complete the look.  Considering the fact that Jon wore a different hip and stylish outfit everyday (as opposed to the one shirt and one pair of shorts I wore every day), I have a feeling he packed that broom for his scarecrow look.  Maybe he knew something we didn't.  Whatever the case, Jon fought for our safety with the broom and became our scarecrow superhero.  Jack Bark, one of our subjects for the story and athletes quickly learned from the superhero and grabbed a stick.  Ryan, my trusty assistant,  armed himself with the tripod and watched my back.
 We walked around like a moving fortress and realized if we stayed close, in a pack, we could survive the attacks.  Left and right the seagulls came, dive bombing us, wreaking havoc and squawking like true "angry birds." Was this a Hitchcock movie?  We briefly looked for a camp spot and then realized this was no way to live.  Fuck the South Island, fuck the seagulls.  We are out of here!  Hopefully the North Island will give us a better welcome.  
We went to the North Island, and the seagulls didn't seem to be much better.  I guess we had no other choice but to call the North Island home and deal with our not so friendly neighbors.  Damn seagulls…  Eventually they relaxed somewhat  and left us alone as long as we stayed as a pack at camp and behaved.  Any time nature called, and you had to find a little seclusion to take care of business, hundreds of birds would start circling around you and eventually dive bomb.  I don't like the whole world to know when I am trying to find some time alone, but this was life on Todos Santos Island.  You had to try to find a secluded place while fighting off the angry birds.  
The other difficult aspect of dealing with our neighbors was the noise.  Do you know what hundreds of nesting seagulls sound like?  Day, night, early morning, pretty much nonstop?  Do you know what it will do to your nerves? It was enough to turn Jack Bark into Jack the Ripper.  He walked around with his stick in the air and the eyes of a killer.  Even though he didn't manage to get any, he wanted all those birds dead.  "Jack, you can't kill them all," I wanted to say, but I didn't.  
Jack the Ripper was manageable, but the one who scared me the most was Scarecrow Jon.  One early morning, before the sun came up around 4:30 am or 5 am, I woke up to screaming.  "SHUT UP!!!!  SHUT THE FUCK UP!!!!!!!!!!!!  SHUT UUUUUUUUUUUUUPPPPPP!!!!!!!  FUCK YOU BIRDS!!!!  FUCK YOU!!!"  The birds, as usual, were wreaking vocal havoc, but what woke me up was Scarecrow Jon going nuts. He was possessed.  I looked to my side and Ryan, my body guard assistant who I shared the tent with, was sleeping.  I reached out of my sleeping bag and zipped the tent shut.  Just in case crazy Scarecrow Jon stumbled into our tent vicinity.  I looked for weapons to defend myself and felt comfort in seeing my hefty tripod.  I sat there quietly.  
In the morning when everyone woke up, Scarecrow Jon was walking around in his new and clean, artificially stained, designer shirt and skinny pants, like nothing happened.  He looked at me and said, "Is that the same shirt you have been wearing the whole trip?"  I looked down at my shirt, and it was riddled with bird shit from the many attacks, but it still looked cleaner than Jon's artificially stained clean shirt.  I wish I brought two shirts, but I was trying to pack light and didn't know I was going to have such stylish travel partners.  I secretly envy people like Jon who can be stylish and cool even on a camping trip.
 THE SURF
It was a new day, and it was time to look for waves.  Todos Santos is known for its massive waves and the break everyone knows called "Killers."  Right at the point by the lighthouse is were Killers usually pounds the shore.  The North island is littered by broken boards; it's a graveyard of fiberglass and foam, somber reminder of what a 60 foot wave can do to you and your board.  
From our tents we had a perfect view of "Killers," but the mighty break was sleeping and was as flat as a pancake.  Todos Santos sits by a deep underwater canyon, and any bump in the water is amplified and turned into larger than average waves.  With a wave forecast of flatter than flat, we really needed the amplifying effect to help us out.  "Please?"  After all, surfing was a big part of our agenda.  Will we find waves?
"Killers" stayed absolutely flat, but we did see a break in between the north and  south Island. It's always hard to judge size when there are no surfers on waves, but to me it seemed pretty small.  This spring, on my way back to Montana from my house in Mexico, I stopped in a popular northwest swell surf spot on the Baja Peninsula. I went there to fly fish since I was told the place didn't work on a south swell. And south swell is what we had.
Normally the place is packed with camped out surfers, but everyone had left for the season when the south swell started pumping in the spring. I was alone. I went to my secret halibut bay, and as I was casting, I kept seeing these perfect peelers working off the point. I kept casting and looking at the waves thinking, "They must be too small to ride, this place only breaks on northwest swell". They kept coming, miniature perfection.
After over an hour of fishing and watching wave after wave peeling across the bay, I couldn't take it anymore. I grabbed my 6.4 fish and paddled out to see if I could ride one of those perfect "ankle biters." The paddle to the point took forever, and when I arrived there were no waves. I figured it was too small, and the waves were breaking on the inside in the shallows. I was starting to paddle in when I saw lines, way on the outside, coming my way.  "Are you kidding me!?" I dug in and paddled as hard as I could to get out and I made it just in time to turn on the second wave of the set. I was riding, incredulous, a head high beauty that went and went, as perfect as a wave can be. I made laps from the point to the inside of the bay, and the rides were so long that I managed to only ride six waves before I was spent. I looked around, and there was no one as far as I could see. I couldn't believe I just had the best session of the year, alone, in the middle of nowhere Baja. This wave on Todos Santos Island had the same effect on us. Only until we had a surfer on did we realized these were not "anklebiters." The deep water amplifying effect was about to treat us to some good surf and no one to share it with. "Thank you Todos Santos Islands."
MEET THE CREW
Mother Hen Joe, also known as Joe Carberry.  Joe is really the mastermind of this whole adventure.  When Joe called me a couple of months before the trip, I was like,"Todos Santos in the summer, to surf?  Are you sure?"  I have always known Todos Santos as a winter surf spot, when the northwest swell pounds its shores and "Killers" go off with 40 to 60 foot waves.  I really didn't believe we would find waves in the summer, but Joe replied, "I am sure. We'll find waves somewhere."  
I still didn't believe it and went on the trip with the idea of documenting a long paddle.  Joe was right, we found our waves.  Joe is the guy who came up with the idea of this trip, and he made it all happen, including logistics and food. He also happens to be the writer who will be writing the story for Outside Magazine.  I call him "Mother Hen" because like a good mother hen, he provided the food and cooked for all of us for the whole trip.  If Joe wasn't paddling or surfing, he was attached to the burners, and trust me, he took his job seriously and absolutely killed it.  
Scarecrow Joe, also know as Jon Arman was our Cinematographer.  Jon has style, and he likes this style to be retro.  From the straps of his cameras, to his 70s short shorts ordered from Australia, to his hat. Jon had a different cool outfit every day.  Maybe even two.  Joe is also the guy who, by mistake, took his fiance's passport instead of his own on the trip.  Upon finding out, while crossing the border from Mexico, he blurted out, "SHIT!  That is really not something I do!" He paused for a few seconds and then said, "What am I saying? That is totally me!" and burst into a big laugh.   
Turns out, we got busted at the border not because Scarecrow Jon had the wrong passport, but because Mother Hen Joe didn't want to get rid of some eggs and tried to sneak them back into the U.S. to feed his hungry family back at home.  "NO EGGS!" the border patrol guy barked at us while holding Scarecrow's fiance's passport in hand.  "DOWN TO SECONDARY CHECK, YOU SON OF A BITCHES!" he ordered, not with those exact words.  Several hours later, we got slapped on the hand for sneaking in eggs and let go.  They didn't care Jon had no passport but those eggs?  Don't you try to sneak in those eggs…  Jon is a fashionista and also a hell of a nice guy.  He opened up his house and friends to me on the 4th of July in San Clemente, made sure I had a surfboard to surf and offered some genuine hospitality.   
BODY GUARD RYAN, Also known as TOP GUN or Ryan Saul.  My trusty bodyguard, assistant and droid pilot.  He protected me from the seagulls while I was shooting, flew the drone like a true TOP GUN and helped me make the shoot happen.  This is a photo snapped after I made him look for a path on the South Island to get a different angle on a shot I was trying to get.  He was attacked by 100s of seagulls, never found a path and got defeated by the birds.  Not sure if he was flipping me off or the seagulls (notice the feathers on his face).  
TOP GUN JUNIOR also known as Paolo Marchesi.  Aspiring one day to be like TOP GUN.  I am the guy who took the pictures and made sure none of the food Mother Hen prepared got wasted.
The heros and subjects of our story are Dave Boehne and Jack Bark There is a lot to say about them, but I am going to let Joe Carberry tell their story.  Check out the December issue of Outside Magazine to read the whole story.