When Maria Elena emailed me about her new project, it was difficult to say no, even though I knew there was only little money to be made. At the time I couldn't have imagined the magnitude of the tragedy that was about to strike that country and how we were all going to be caught up in it.
Maria Elena Udali, a 28-year-old beauty from La Thuile, Italy, manages a family restaurant during the winter and summer months, and the rest of the year she travels the world in search of waves.  While on a surf trip in Ecuador, following an Ecuadorian surfer she had fallen in love with, she was introduced to Renata Verdelli.  A fashion designer who started Caramel Clothing, a small Ecuadorian brand run by Renata and her friend Gaby Chang in Guayaquil.  Renata and Maria Elena became fast friends and started talking about a new line of swimwear specifically designed for female surfers; something that was practical,yet feminine and sexy, not just a sport suit. Together they created the line, sponsored three female Ecuadorian pro surfers and organized a road trip from Ecuador mainland to the Galápagos Islands to symbolize the evolution of bathing suits, Darwinian style, and the liberation of women surfers.  But there was a  catch: no one had any money, and Ecuador was about be hit by one of the biggest natural disasters in history.
This is when I came into play.  Ten years ago I discovered surfing, and the sport has become a big part of my life. Since then I bought a house in Mexico so I could spend every day of the winter in the water.  I became a surfer, not a good one, but, without a doubt, a surfer at heart.   When Maria Elena emailed asking me if I was interested in joining their road trip and documenting it with a pay of zero dollars, I had an impossible time saying no.  Traveling with six beautiful women, three of them Ecuadorian pro surfers, seemed like a great opportunity to surf in a country I would probably never visit in a better way.  I booked a ticket.
Four days before my departure, I was bobbing in the water, waiting for a wave at my local break in Mexico when my friend Tod paddled up to me and said, "Did you hear the news about the 7.8 magnitude earthquake that hit Ecuador?" I ran home and checked the news.  At first they reported 100s of deaths, but the death toll kept rising.  Maria Elena, already in Ecuador, was MIA.  The news kept talking of destruction, thousands of people missing, deaths, entire towns flattened to the ground.  Is this just the news sensationalizing what happened or has Ecuador truly fallen under the rumble of the earth?  I was about to cancel my flight when I received a message from Maria Elena: "Paolo, we are all OK, everything is OK, we can continue with our project.  Come!"  At the time I didn't know Maria Elena is an optimist, everything is "no problem" in her world but indeed we did have problems. Many of them. I boarded my flight while aftershocks rocked Ecuador on a daily bases.

I arrived in Guayaquil after a brutal 20 hour flight and Maria Elena and Renata picked me up.  They looked like beautiful sisters from two different countries, both stylishly dressed in summer outfits. I looked down at my flip flops, my already stained shorts, my stretched out T-shirt and wished I had brought better clothes. Immediately after introductions, they told me what to do in case of an earthquake while nervously looking at the exit doors.  Stay away from windows, do not go underneath a table, find a hefty couch and lay on the side of it…  I just wanted to get the hell out of the airport, and we did.  Somehow we managed to shove my surfboard and all my equipment into Renata's little car and they dropped me off at a hostel for a needed rest.  The plan was to leave the following morning for Montañita, a surf town on the southern coast, to meet the surfer girls.  I laid down on the bed, listening to a mosquito buzz by my ear realizing I had forgotten mosquito repellent.  It was so damn hot, muggy, I would have gladly paid an extra $20 for some AC, but I was too tired to care about any of this.  I fell asleep.  Not before long,  the earth started shaking violently, I woke up in a sweat; foggy and panicked, I sprinted for the door naked, just then realizing I was just having a bad dream.  I took a deep breath and put on some shorts, in case I needed to really make a quick escape. In the morning the girls picked me up to start our trip.
Caramel, for their new swimwear surf line called Udali for Caramel, sponsored Titi Vargas and the two Game sisters, Cristi and Titi.  Caramel's sponsorship consisted of bikinis for the girls and a sticker for their surfboards.  Renata told me, "Paolo, we are a small start-up.  Gaby and I do it all, the design, the marketing, the branding, the sales and the production.  Every penny we make, goes back into the business.  We don't have any money."  I  didn't know any of this until I arrived in Montañita.  A road trip and traveling to the Galápagos costs money, where is this money going to come from?
In Montañita we stayed at Titi Vargas huts on the beach, right by the main point we surfed.  Basic but charming, the accommodations were built out of bamboo, straws and a little cement. Titi, 27, has the body of someone who surfs every day. Lean and muscular, tattoos tastefully showcased on her body.  At 16 she competed internationally for the first time in an ISA World Junior in Huntington beach. The following year she moved to San Clemente to try a career in the U.S. as a pro surfer with sponsorships from Body Glove and Wanted Dream.  While sitting on a hammock, in front of her small hut overlooking the ocean, she told me, "But then I missed paradise and I came back.  This is where I belong and the life I want."  I looked at the surfboards lying around her place, the beach right on the front step, her relaxed lifestyle.  How could anyone disagree?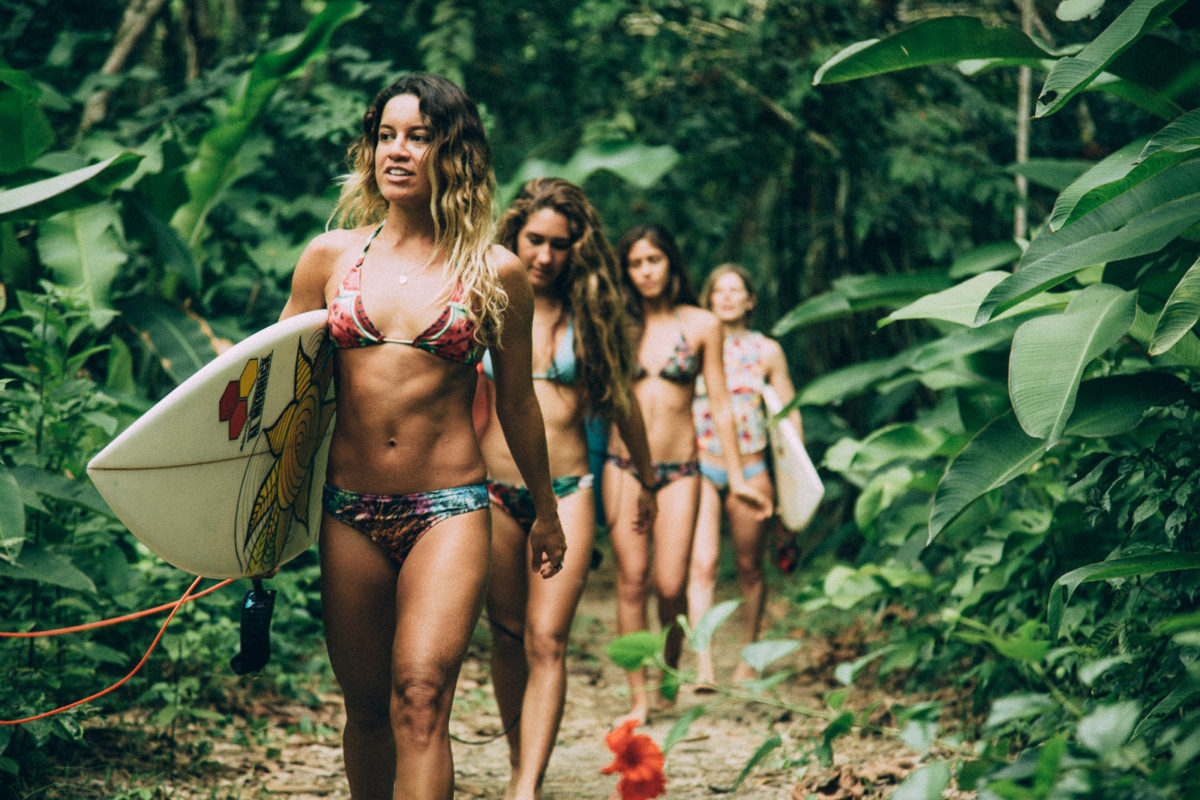 That morning Maria Elena and I went for our first surf session in Ecuador to meet for the first time the Game sisters.  I was surrounded by local Ecuadorian women who ripped.  These girls took it seriously.  I knew immediately why Maria Elena had chosen the Game sisters;. they were naturally beautiful and surfed with style.  But they also charged.  You could tell these girls loved to surf, and they meant business.  Cristi, 17, the youngest, qualified to represent Ecuador in the ISA World Junior Championship in Portugal this year.  Titi Vargas also qualified for the ISA World Surfing Games in Costa Rica, but neither of them can afford to compete. They later told me that pro surfer women in Ecuador don't stand a chance making a living as a surfer, "We do it because we love to surf.  Mimi Barona is the best woman surfer in Ecuador and even she can't make a living as a surfer."  The sisters' sponsorships consists of free wax, bikinis, discounted surfboards and stickers.  How are stickers and wax going to take us to the Galápagos?
The next few days we explored breaks nearby, trying to figure how this road trip was going to happen. We decided that going far north, close to the epicenter of the earthquake, was a bad idea.  Only four hours away, towns had been destroyed, people were desperate and trying to survive.  Not only was it not safe, but how could we show up with our surfboards to have fun when people were living through a tragedy?  I started feeling guilty thinking about the reality that was unfolding only hours away.  
One evening, Sandra Game, Titi and Cristi's mother, told us that the company that  was sponsoring the Galápagos trip for the sisters decided to put the money into helping earthquake survivors instead.  Caramel had no money to buy plane tickets or pay for food and lodging.  The success of our trip started looking pretty grim.
"Why don't we go north and volunteer, see if we can help?" I said.  Titi Vargas replied "I received a call from a friend a few days ago who is volunteering there.  She was sobbing uncontrollably, telling me that she could see body parts sticking out of rubble, it smelled like decaying human bodies, it was horrible. I am a strong girl, but I don't think I am that strong."  Sandra added, "We are not ready for this Paolo.  The girls can't show up in shorts and bikinis to help.  Plus is dangerous, people are desperate and desperate people do desperate things.  They are holding supply trucks at gunpoint.  Why don't we do something local?"
The next day Sandra and I drove south of Montañita to some of the affected areas.  It was hard to figure out what houses had been damaged by the earthquake and what houses were just falling down or unfinished because of poverty.  We asked around about how we could help, and we were sent to a community leader who replied, "We need houses."  Obviously we couldn't provide them with houses, and our effort to help within our means was turned down.  
"You see Paolo, this is the problem with the Ecuadorian government," Sandra said. "Instead of helping the people, they delayed the relief efforts that came from all over the world."  The government was supposed to have a large emergency fund that somehow went missing when needed.  Because there is a new election coming up, to look good in front of their people, the government re-packaged the goods that were donated and placed them in Ecuadorian labels and military trucks to make it appear as goods that came from Ecuador.  This delayed the delivery by days. Social media showed pictures of food donated by Columbia thrown to the side and gone to waste.  
We gave up with our idea to help and went back to the original plan.  How can we get to the Galapagos?  Sandra disappeared and started making phone calls.  She is a well connected woman with a business sense, and within an hour she had the nicest Hotel in San Cristobal the "Golden Bay Hotel & Spa" hosting us for free, a free guide, free food and free tours in exchange for exposure. We had everything we needed.
When we arrived in San Cristobal we were welcomed by sea lions that hang out in town like pets, and also by one of the best swells they've had for the year.  Some of the best waves in South America are in San Cristobal.  Point breaks breaking over volcanic reef and turquoise water.   Tongo Reef, Carola, Lobería were working with perfect 6- to 8-foot faces.  We decided we couldn't visit the Galapagos and just surf.  We hiked around the island, discovering the untouched nature and abundance of wildlife.  Some of the most memorable experiences were snorkeling with sea turtles in the many coves and free diving Kicker Rock, an antique volcanic cone jetting out of deep water.  We watched sharks cruising it's vertical cliffs and disappearing in synchronicity into a deep blue; their movements so perfect, like a slow motion dance.  After four idyllic days in Paradise, at their return, the Game family was about to face a different reality.
Back on the mainland, Caramel started a special sale and 10 percent of profits would go towards earthquake survivors.  It turned out to be one of the best sales of the year.  With the profits they bought mattresses and food and were ready to deliver them to Manta.  The Game family volunteered to help with the delivery and witnessed a destroyed world.  The damage was worst than they had expected, but people hadn't lost their souls.  "Nobody asked how to start helping, they just did.  Without even stopping and thinking much about it, Ecuador started a brotherhood that not even in the worst war, could people achieve."  
They met adults and children in a Manta shelter desperate to share their stories, in need of everything but mostly to be heard.  Stories of horror but also of hope, courage and love. Marita, a 3-year-old girl, took them to her tent and proudly showed them how she keeps it clean with a broken broom, her few toys that survived neatly arranged on the mattress.  They met Naricita the clown who had lost everything but his sense of humor.  He improvised a theater to entertain people, make them laugh and, for a moment, forget their reality.  When asked to pose for a photo he pulled out an Ecuadorian flag, symbolizing the country that trembled but felt more united than ever.  
After their visit they left quietly, feeling they could have done more and with the commitment to go back soon.  "This changed my life, and I believe I'm going to become a better person," Titi Game said.
A surf trip to photograph a new swimwear line turned into something no one had expected. Instead of catching waves, we got caught up in a human tragedy that reminded all of us all how fortunate we really are.
FOR THE ONES WHO WANT TO SEE MORE… Click on the images to see them bigger.